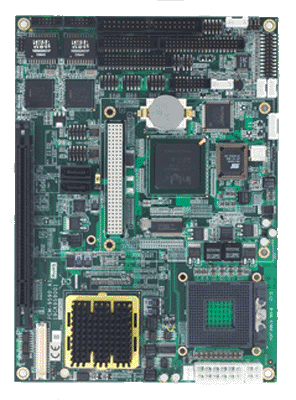 PCM-9590 Manual
The PCM-9590 is an EBX Single Board Computer available with a embedded Intel Core Duo CPU on board or a socket 479 version excepting a Core 2 Duo processor. This chipset is ideal for embedded computing and provide an optimized on-board integrated graphics processor.
The PCM-9590's design is based on the EBX form factor and provides support for PCI-104, Mini PCI interface, and one PCI-E X 16 slot. The EBX form factor also provides convenient connector layout for easy assembly, more efficient cable connections, and better overall embedded system integration. This compact unit (only 8" x 5.75") offers all the functions of a rack type industrial computer, but still fits in the space of a CD-ROM drive.
The PCM-9590, in conjunction with Intel 945 GME and ICH7M chipsets, supports processors clocked up to 2.2 GHz, has six USB 2.0 compatible ports, two Gig Ethernet ports, two SATAII (300 MB/s) and four COM ports. In addition, this SBC provides 2 channel, 36-bit LVDS supporting dual independent display (36-bit LVDS + VGA) and can accommodate up to 2GB of DDR2 SODIMM RAM memory (support FSB 533/667 MHz).