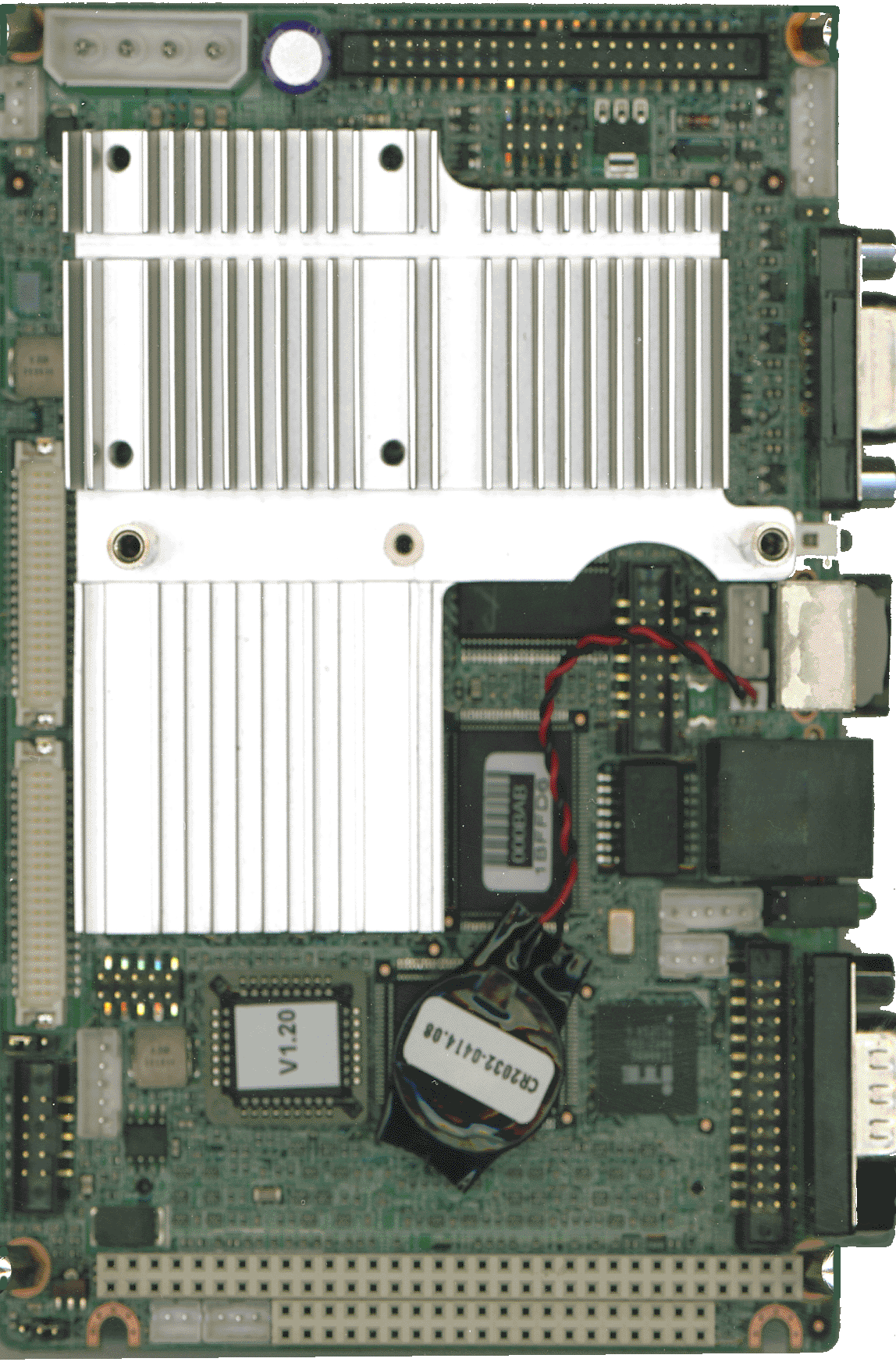 PCM-9388 Manual
The PCM-9388 is centered on a powerful Intel® Celeron® M processor that supports an onboard 600MHz to 1GHz processor. The Intel® 852GM chipset is ideal for embedded computing and provide an optimized on-board integrated graphics solution.
The PCM-9388's design is based on the small Half-EBX form factor and provides support for PC/104 module expansion. The Half-EBX form factor also provides a convenient connector layout for easy assembly, more efficient cable connections, and better overall embedded system integration. This compact unit (only 5.7" x 4 ") offers all the functions of a single board industrial computer, but still fits in the space of a 3.5" Hard drive.
On-board features include: two serial ports, Dual Video, one multi-mode parallel (ECP/EPP/SPP) port, two USB (Universal Serial Bus) 2.0 ports, an Ethernet port, two serial ports, PS/2 keyboard/mouse interface, Audio and a EIDE (UDMA 33) which supports up to two IDE devices, including large hard disks and CD-ROM drives.

Embedded Onboard Intel® Fanless Celeron® M Processor
Supports DDR memory
Supports 10/100 BASE-T Ethernet
Supports Dual Video, CRT and LVDS LCD or TTL LCD
Supports 2 x USB 2.0 ports
Supports PC/104 Expansion
Supports AT & ATX power
Standard SBC Functions
CPU: Embedded Celeron M 600 Ghz. or 1.0 GHz
Chipset: Intel 852GM GMCH + ICH4
BIOS: AWARD® 4 Mbit
DRAM Memory: 1 x SODIMM socket, supports DDR266 DRAM up to 1 GB
Expansion: PC/104 Expansion Slot
Watchdog Timer: 1 - 255 sec, system reset
Power Management APM, ACPI S1, S5 supported
Standard I/O
IDE Interface: One EIDE UDMA 33
Serial Ports: One RS-232 and one RS-232/422/485 port
Parallel Port: Supports SPP, EPP, and ECP modes
USB Ports: Two onboard USB 2.0 ports
Keyboard/Mouse: One PS/2 keyboard and one PS/2 mouse
GPIO: 8-bit general purpose Input / Output port

VGA/Flat-Panel Interface
Chipset: Intel 852GM
Video Memory: Supports up to 64 MB (shared) memory
Display Type: Flat Panel and CRT displays
Resolution: Up to 1600 x 1200 @ 85 Hz
TTL Interface: Supports 18-bit TTL
LVDS Interface: Supports 36-bit LVDS LCD Panel
Dual Display: Dual Independent Display: CRT + LVDS, CRT + TTL
Ethernet Interface
Chipset: Realtek RTL 8100CL
Interface: 10/100 Mbps, onboard RJ45 connector
Audio Function
Supports AC97 Audio stereo sound; Line-in, Line-out, Mic-in
Solid State Disk
One CompactFlash™ socket supports Type I CompactFlash™ Cards (CFC).
Mechanical and Environmental
Power Requirements: AT/ATX (Celeron M 600 MHz with 1 GB SDRAM)

Maximum: +5 V @ 2.75 A, +12 V @ 0.17A

Typical: +5 V @ 1.78 A, +12 V @ 0.16A

Operating Temperature: 32 to 140°F (0 to 60°C)
Board Dimensions: 5.7" x 4.0" (145 mm x 102 mm)
Board Weight: 1.9 lbs. (0.85 kg)

Operating System Compatibility
Linux & RTAI Real-Time Linux
Microsoft Windows XP / XPE
Microsoft Windows CE /CE.net
Microsoft MS-DOS 6.22 & RomDos 6.22
PRICING (Single Unit Pricing. Includes: Integration, Setup,Testing, & Enhanced Support)