SoM-3517
---
Embedded TI ARM Cortex-A8, 600 MHz
Up to 512MB of DDR2 RAM, Up to 4GB eMMC
10/100 BaseT Ethernet
2D/3D Accelerated Video w/ Resistive Touch
Optional -40 to +85 version (MOQ applies)
Receive consultation or quotes about this product from our sales staff.
Request a quote
The SoM-3517M is based on the TI ARM Cortex-A8 processor. This fanless ARM Cortex, 600 MHz SoM has an Ethernet PHY included along with 4 serial ports. It utilizes up to 512MB of external DDR2 RAM, UP to 1GB of NAND Flash, up to 4GB of eMMC Flash.
Features
---
Small, 200-pin SODIMM form factor (2.66" x 2.375")
TI ARM Cortex-A8 600 MHZ Fanless processor 
Up to 512 MB of DDR2 SDRAM
Up to 1 GB of NAND Flash
UP to 4GB of eMMC Flash
Neon Vector Floating Point Unit
Processor Bus Expansion
24-bit DSTN/TFT LCD Interface
2D/3D Accelerated Video w/ Resistive Touch
10/100 BaseT Ethernet
4 Serial Ports
2 Full Speed USB 1.1/2.0 Host ports
1 Full Speed USB OTG port
2 I2C and 2 SPI ports
I2S Audio port
High-End CAN Controller CAN 2.0B Controller
Timer/Counters and Pulse Width Modulation (PWM) ports
1 Channel, 12-bit Analog-to-Digital converter
On-module Temperature Sensor
Linux, Real Time Linux
Robust, Free Eclipse Development Tools
Overview
---
The SoM-3517M is based on the TI ARM Cortex-A8 processor. This fanless ARM Cortex, 600 MHz SoM has an Ethernet PHY included along with 4 serial ports. It utilizes up to 512MB of external DDR2 / SDRAM, 1GB of NAND Flash, up to 2GB of eMMC Flash, and includes an MMU which allows it to run Linux and WindowsCE Operating Systems. A SoM is a small embedded module that contains the core of a microprocessor system.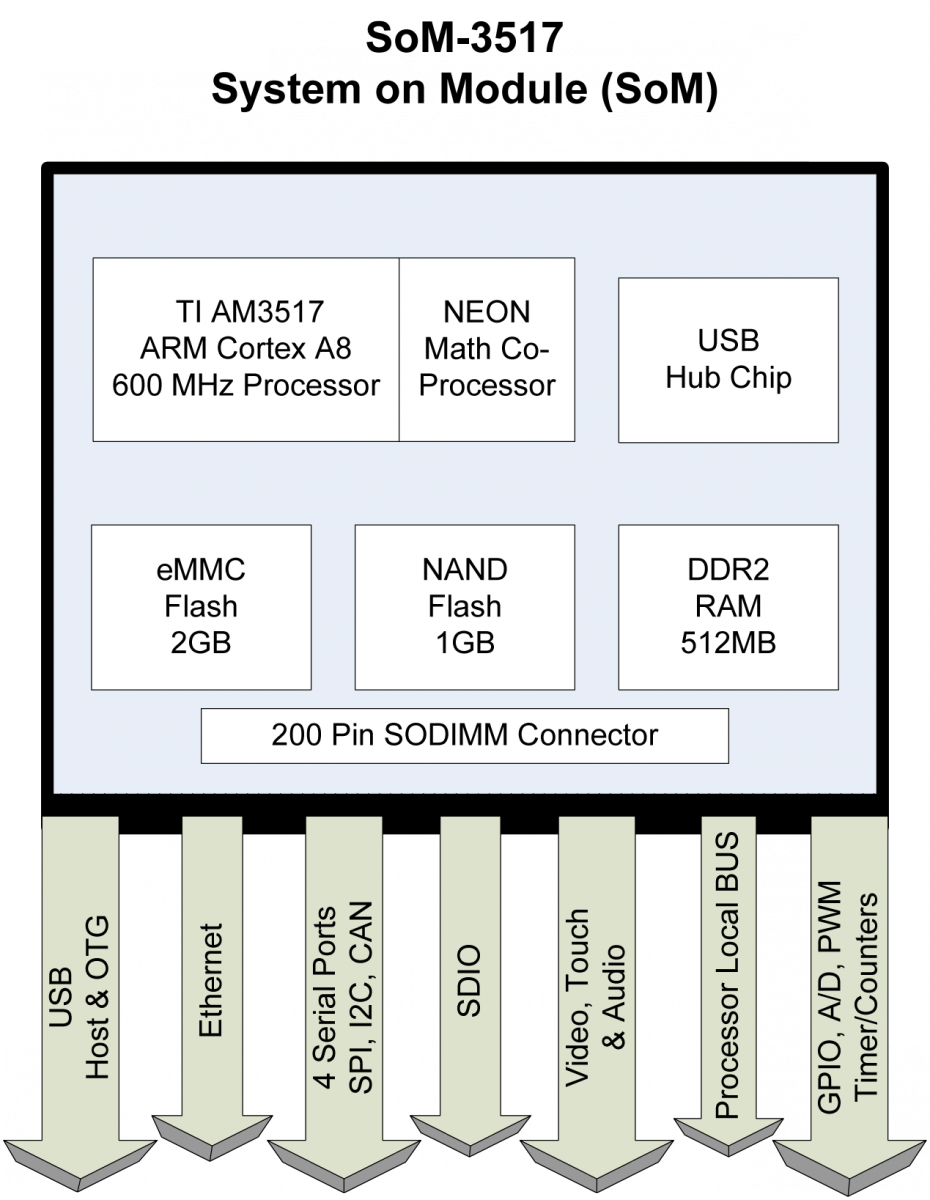 Using the same small 200 pin SODIMM form-factor utilized by other EMAC SoM modules, the SoM-3517M is the ideal processor engine for your next design. All of the ARM processor core is included on this tiny board including: Flash, Memory, Serial Ports, Ethernet, SPI, I2C, I2S Audio, CAN 2.0B, PWMs, Timer/Counters, A/D, digital I/O lines, video, Clock/Calendar, and more. The SoM-3517M additionally provides a math coprocessor, and 2D/3D accelerated video and image scaling/rotation.

The SoM-3517M is designed to plug into a carrier board that contains all the connectors and any custom I/O required for the application. This approach allows the customer or EMAC to design a Custom Carrier Board that meets the customer's I/O, dimensional, and connector requirements without having to worry about the processor, memory, and standard I/O functionality. With this System on Module approach, a semi-custom hardware platform can be developed in as little as a month.

In addition to the option of the developing a Carrier board, one can be purchased off-the-shelf from EMAC. EMAC provides off-the-shelf Carrier boards that feature A/D, D/A, MMC/SD card, keypad, LCD, Touchscreen, and Audio interfaces. The recommended off-the-shelf Carrier Board for the SoM-3517 is the SoM-250ES which allows the user to immediately start coding their application using the powerful Linux Operating Systems and Tools.

The System on Module approach provides the flexibility of a fully customized product at a greatly reduced cost. The SoM-3517M is ideal for any Web/Network, Data Acquisition and Control or User Interface application.
Specifications
---
Processor
CPU

Embedded TI ARM Cortex-A8 Neon Math Coprocessor

Clock Speed

600 MHz
Memory
RAM

256 MB

RAM Type

DDR2

Primary Flash

2GB of eMMC

BIOS/ Bootloader

Resident Flash Bootloader (uboot with extensions)

Memory Misc.

Up to 4GB of eMMC option available (MOQ may apply)

Up to 512MB RAM
Primary IO
GPIO

16x General Purpose I/O (additional GPIOs can be made available)

Audio

I2S Synchronous Serial Controllers with analog interface support

Video Out

LCD Video Interface with HD resolution up to 2048 x 2048 with 2D/3D acceleration

Ethernet

10/100 BaseT Ethernet

USB

2x USB 1.1/2.0 Hosts, 1x USB 2.0 High Speed Host or Device (USB OTG) software configurable

Serial Ports

4x std serial ports, 2x I2C ports & 2x SPI ports with chip selects
Secondary IO
CAN

1x CAN 2.0B Port

SPI

2x High-Speed SPI ports with Chip Selects.

Timers/ Counters/ PWM

11x General Purpose Timers

Touch

12-bit TSC2004
Expansion
Bus

Local ARM Cortex-A8 Multiplexed Bus accessible through SODIMM provides 10 address lines; 16 data lines; and control lines.
Misc
Operating Systems

EMAC OE Linux, Qt

SOM Type

Microcontroller SODIMM Modules
Mechanical and Environmental
---
Dimensions
Size

2.66" ×2.375" (67mm × 60mm)
Power Requirements
Voltage

3.3 V

Typical Voltage

3.3 V

Typical Current

470 mA

Max Boot Current

482 mA

Constant Busy Loop Current

485 mA

Idle Current

465 mA
Environmental
Low Operating Temperature
0 C (32 F)
High Operating Temperature
70 C (158 F)
Upper Operating Humidity

90%

Environmental Misc.

Optional -40 to +85 (Minimum Order Quantity Applies)
Pricing
---
OEM / Quantity Pricing Available on Request - Less Services
(Single Unit Pricing. Includes: Integration, Setup,Testing, & Enhanced Support)
Product #
Description
Price
Stock
SoM-3517M-130
TI ARM Cortex-A8 CPU, 2GB eMMC FLASH, 256MB RAM (0 ~ +70C)
$198.00
Build-to-order

EMAC can build the SoM-3517 with any option mix you require. Build-To-Order can offer a significant cost savings when only a certain subset of options are needed! 25 piece minimum required.

Call for pricing
Carrier Board Options
---
Peripheral Options
---
Product #
Description
Price

Operating Systems
SL040-AON-00010
EMAC OE Linux 4.x for ARM
Free
SC600-000-0010D
Windows CE 6.0 Pro License SOLD ONLY WITH HARD DRIVE OR FLASH DRIVE MEDIA
$25.00
Additional Options
---