System on Module (SoM)
---

Faster time to market
Cost savings
Reduced risk
Scalable CPU choices
Flexible Design
Small footprint

System on module (SoM) is an ideal alternative to custom engineering. With an SoM approach you get the best of aspects of both buying an Off-The-Shelf Single Board Computer (SBC) and of a Custom Engineered solution. With Off-The-Shelf standard components such as a generic carrier board and SOM module, it is possible to start development on your software applications before the custom carrier board is complete; thus offering a reduced time to market for your system. A System on Module (SoM) is comprised of a small processor module with CPU bus accessibility and standard I/O functionality. The SoM module does not have any connectorization and is designed to be plugged into a Carrier Board.

Learn more about System on Module (SoM) approach.

Need help in making a selection?

For an EMAC authored article on selecting an SBC click here.

For an Presentation of the SoM approach, benefits & features click here.

EMAC single board controller interfaceing guidelines.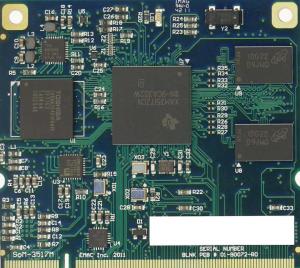 Additional Options
---
---
Receive consultation or product quotes from our sales staff, today.
Request a quote
ARM 144-pin SODIMM Modules
| Product # | CPU | Memory | Serial Ports | GPIO | Timers/ Counters | Dims. | Bus Type | Other IO |
| --- | --- | --- | --- | --- | --- | --- | --- | --- |
| SoM-9260M | Embedded Atmel ARM9 AT91SAM9260, 200 MHz | Up to 128MB SDRAM & 64MB NOR Flash | 6x Serial Ports | 32x Programmable GPIO | 6x 16-bit Timer/Counters, PWM, Compare, Watchdog | 2.66" ×1.5" | Local ARM Bus | 10/100 BaseT Ethernet, SDIO, A/D, Real Time Clock, I2S Audio, USB 2.0 Host & Device, 2x SPI, 1x I2C |
| SoM-A5D35 | Atmel ARM Cortex A5 ATSAMA5D35, 536 MHz | 512MB RAM, 4GB eMMC, 16MB Serial Data Flash, | 5x Serial Ports, 2x CAN 2.0B Ports | 18x GPIO (3.3V) Lines | Timer/Counters/PWM 8 x PWM Channels | 2.66" ×1.5" | Local ARM Bus | 10/100 BaseT Ethernet, SDIO, A/D, Real Time Clock, I2S Audio, USB, I2C, SPI, CAN |
| SoM-9G25M | Embedded Atmel ARM9 AT91SAM9G25 400Mhz | Up to 128MB DDR2 RAM, 8MB Serial Data Flash, 256MB NAND | 6x Serial Ports | 18x GPIO | 4x Timer/Counters, 4x Pulse Width Modulation (PWM) Ports | 2.66" ×1.5" | Local ARM Bus | 10/100 BaseT, SDIO, A/D, I2S Audio, USB 2.0 Host & OTG, Real Time Clock |
| SoM-IMX6U | Freescale/NXP i.MX6 UltraLite (MCIMX6G1) Cortex A7 528Mhz Processor | 512 MB DDR2 | 5x 2-wire serial, 2x USB 2.0, 1x USB OTG, 1x CAN port | 22x GPIO (3.3V) Lines (Shared with Timer/Counters, Prog Clocks, PWM, I2S, etc.) | Timer/Counters, Prog Clocks & PWM | 2.66" ×1.5" | 144 PIN Sodimm | 10/100 lan, 5x Serial Ports, SPI, I2C, I2S & CAN, 4x A/D, PWM, Timer/Counters, Prog. Clocks & GPIO |
| SoM-9G20M | Embedded Atmel ARM9 AT91SAM9G20, 400 MHz | Up to 64MB SDRAM & 1GB NAND Flash | 6x Serial Ports | 32x Prog. GP I/Os | 6x 16-bit Timer/ Counters, PWM, Compare, Watchdog | 2.66" ×1.5" | Local ARM Bus | 10/100 BaseT Ethernet, SDIO, A/D, I2S Audio, USB 2.0 Host & Device, Real Time Clock, 2x SPI, 1x I2C |
| SoM-9X25M | Embedded Atmel ARM9 AT91SAM9X25 400 MHz | 128MB DDR2, 4GB eMMC & Up to 16MB of Serial Flash | 6x Serial Ports, 2x CAN 2.0B Ports | 32x Prog. GP I/O, 2x I2C Ports | 3x Timer/Counters/PWM | 2.66" ×1.5" | Local ARM Bus | 10/100 BaseT Ethernet, A/D, Battery Back RAM, Real Time Clock, I2S Audio, USB |
SODIMM Carrier Boards
| Product # | Module | Video/ Flash | Serial Ports / CAN | Digital I/O | USB | Som Type | Dims. | Other I/O |
| --- | --- | --- | --- | --- | --- | --- | --- | --- |
| SoM-150ES | SoM-9260, SoM-9G20, SoM-9G25, SoM-9x25, SoM-A5D35, SoM-iMX6U | MMC/SD Flash Slot | 4x RS232, 1x RS232/ 422/485, 1x CAN 2.0B Port | 24x Digital I/O Lines | 2x Host, 1x Device | 144-pin SODIMM | 4.37" ×6" | 10/100 BaseT Ethernet, Keypad, LCD, A/D, D/A, SPI, USB Host & Device, Audio In/Out |
| SoM-200ES | SoM-9307M, SoM-3517M, SoM-9G45M, SoM-9M10, SoM-3354 | 1x 4-wire Resistive Touch Screen Interface | 3x RS232, 1x RS232/ 422/485, 1x CAN 2.0B Port | 24x Digital I/O Lines | 2x USB 2.0 Host Ports, 1x USB 2.0 Device Port | 200-pin SODIMM | 4.37" ×6" | 10/100 BaseT Ethernet,4.3" WQVGA LCD w/Touch Screen, SPI, USB Host & Device, I2S Audio |
| SoM-210ES | SoM-9307M, SoM-9G45M, SoM-3517M, SoM-9M10, SoM-3354 | Micro SD Flash Slot | 2x RS232, 1x RS232/ 422/485, 1x CAN 2.0B Port | 24x Digital I/O Lines | 2x Host | 200-pin SODIMM | 4.8" ×3" | 10/100 BaseT Ethernet,4.3in WQVGA LCD w/Touchscreen, SPI, I2C, A/D, Audio Beeper, 24x GPIO |
| SoM-212ES | SoM-9G45M, SoM-3517M, SoM-9307M, SoM-9M10, SoM-3354 | Micro SD Flash Slot | 3x RS232, 1x RS232/ 422/485, CAN 2.0B Port | 16x Digital I/O Lines | 2x Host, 1x OTG | 200-pin SODIMM | 4.8" ×3" | 10/100 BaseT Ethernet, WQVGA LCD w/Touchscreen, 16x GPIO, SPI, I2C, A/D, Audio in/out, Audio Beeper, POE |
| SoM-250ES | SoM-9G45M, SoM-9M10, SoM-3517M, SoM-3354 | Graphic LCD with TTL & LVDS Interfaces with optional 2D acceleration & hardware CODECs | 3x RS232, 1x RS232 422/485, 1x CAN 2.0B Port | 22x SoM Specific I/O Lines (GPIO, A/D, SPI, I2C) | 2x USB High Speed Host, 1x USB High Speed OTG | 200-pin SODIMM | 7.55" ×4.15" | 10/100 BaseT Ethernet, 7in WVGA LCD w/Touch Screen, SPI, I2S, Audio Beeper, 12S Audio Port with Line-In/Line-Out, I2C |
| SoM-200GS | SoM-3517M, SoM-9G45M, SoM-9M10, SoM-3354, SoM-A5D36 | TFT LCD /w Touch/MMC/SD Flash Slot | 4x Serial Ports (3x RS232 & 1xRS232/422/485), 1x CAN 2.0 Port | Up to 56x I/O Lines | 2x USB Host, 1x USB OTG | 200-pin SODIMM | 4.37" ×6" | Gigabit Ethernet, 4.3in WQVGA LCD w/Touch Screen, SPI, USB Host & Device, Audio In/Out, Bluetooth, Wi-Fi |
| SoM-250GS | SoM-3517M, SoM-3354, SoM-A5D36 | Graphic LCD with TTL & LVDS Interfaces Resistive Touch Screen Interface | 3x RS232, 1x RS232/422/485, 1x CAN, 1x CAN2.0B port | 22x SoM Specific I/O lines (GPIO, A/D, SPI, I2C) | 3x USB (2x USB 2.0 High Speed Host ports, 1x USB 2.0 High Speed OTG port) | 200-pin SODIMM | 7.55" ×4.15" | 1x Gigabit BaseT Ethernet, 1x SPI, 1x I2S, Audio Beeper, 1x I2S Audio port with Line-In/Line-Out |
ARM 200-pin SODIMM Modules
| Product # | CPU | Memory | Serial Ports | GPIO | Video/Touch | Bus Type | Dim. | Other I/O |
| --- | --- | --- | --- | --- | --- | --- | --- | --- |
| SoM-3517M | Embedded TI AM3517 ARM Cortex-A8 with Neon Math Co-processor 600MHz 600 MHz | Up to 512 MB of DDR2 SDRAM | 4x Serial Ports, 1x CAN 2.0B Port | 16x Programmable GPIO | LCD Video Interface with HD Resolution up to 2048 x 2048 with 2D/3D Acceleration and Touch Screen | Local ARM Bus | 2.66" ×2.375" | 10/100 BaseT, SDIO, I2S Audio, USB Host & OTG, Real Time Clock |
| SoM-9307M | Embedded Cirrus ARM9 EP9307, 200 MHz | 128 MB, 100 Mhz SDRAM, Up to 64 MB External NOR Intel P30 Flash | 3x Serial Ports | 32x Prog. GP I/Os | LCD Video Interfac with 12-Bit Touch Screen | Local ARM Bus | 2.66" ×2.375" | 10/100 BaseT Ethernet, A/D, I2S Audio, USB 2.0 Host, Real Time Clock, 1x SPI, 1x I2C |
| SoM-9G45M | Embedded Atmel ARM9 Jazelle AT91SAM9G45 400 MHz | 128 MB, 133Mhz DDR2, Up to 256 DDR2 RAM | 5x Serial Ports | 32x Programmable GPIO | LCD Video Interface, 10-Bit Touch Screen | Local ARM Bus | 2.66" ×2.375" | 10/100 BaseT Ethernet, SDIO, A/D, I2S Audio, Touch Screen, USB 2.0 Host & Device, Real Time Clock |
| SoM-9M10M | Embedded Atmel AT91SAM9M10, 400 MHz | 256 MB DDR2, 1GB NAND Flash | 5x Serial Ports | 32x Prog. GPIO | LCD Video Interface 10-Bit Touch Screen | Local ARM Bus | 2.66" ×2.375" | 1x 10/100 BaseT Ethernet, SDIO, A/D, I2S, 2x SPI, 2x I2C |
| SoM-A5D36 | Embedded Atmel ARM Cortex A5 ATSAMA5D36, 536 MHz | 512 MB, LP DDR2 RAM, up to 4GB eMMC Flash | 5x Serial Ports, 2x CAN 2.0B Ports | 21x GPIO Lines | 12-bit 4-wire Analog LCD & Resistive Touch Interface | Local ARM Bus | 2.66" ×2.375" | 10/100/1000 BaseT Ethernet (Optional Dual Ethernet), SDIO SD, I2S Audio, USB |
| SoM-3354M | Embedded TI AM3354 ARM Cortex-A8 1 GHz processor | 512 MB RAM, 4GB eMMC, 16MB Serial Data Flash, | 4x Serial Ports, 1x CAN 2.0B Port | 22x GPIO Lines | LCD Video Interface with 16-bit Touch Screen | Local ARM Bus | 2.66" ×2.375" | 10/100 BaseT, SDIO, A/D, I2S Audio, USB, Real Time Clock |
SODIMM Carrier Boards
| Product # | Module | Video/ Flash | Serial Ports / CAN | Digital I/O | USB | Som Type | Dims. | Other I/O |
| --- | --- | --- | --- | --- | --- | --- | --- | --- |
| SoM-150ES | SoM-9260, SoM-9G20, SoM-9G25, SoM-9x25, SoM-A5D35, SoM-iMX6U | MMC/SD Flash Slot | 4x RS232, 1x RS232/ 422/485, 1x CAN 2.0B Port | 24x Digital I/O Lines | 2x Host, 1x Device | 144-pin SODIMM | 4.37" ×6" | 10/100 BaseT Ethernet, Keypad, LCD, A/D, D/A, SPI, USB Host & Device, Audio In/Out |
| SoM-200ES | SoM-9307M, SoM-3517M, SoM-9G45M, SoM-9M10, SoM-3354 | 1x 4-wire Resistive Touch Screen Interface | 3x RS232, 1x RS232/ 422/485, 1x CAN 2.0B Port | 24x Digital I/O Lines | 2x USB 2.0 Host Ports, 1x USB 2.0 Device Port | 200-pin SODIMM | 4.37" ×6" | 10/100 BaseT Ethernet,4.3" WQVGA LCD w/Touch Screen, SPI, USB Host & Device, I2S Audio |
| SoM-210ES | SoM-9307M, SoM-9G45M, SoM-3517M, SoM-9M10, SoM-3354 | Micro SD Flash Slot | 2x RS232, 1x RS232/ 422/485, 1x CAN 2.0B Port | 24x Digital I/O Lines | 2x Host | 200-pin SODIMM | 4.8" ×3" | 10/100 BaseT Ethernet,4.3in WQVGA LCD w/Touchscreen, SPI, I2C, A/D, Audio Beeper, 24x GPIO |
| SoM-212ES | SoM-9G45M, SoM-3517M, SoM-9307M, SoM-9M10, SoM-3354 | Micro SD Flash Slot | 3x RS232, 1x RS232/ 422/485, CAN 2.0B Port | 16x Digital I/O Lines | 2x Host, 1x OTG | 200-pin SODIMM | 4.8" ×3" | 10/100 BaseT Ethernet, WQVGA LCD w/Touchscreen, 16x GPIO, SPI, I2C, A/D, Audio in/out, Audio Beeper, POE |
| SoM-250ES | SoM-9G45M, SoM-9M10, SoM-3517M, SoM-3354 | Graphic LCD with TTL & LVDS Interfaces with optional 2D acceleration & hardware CODECs | 3x RS232, 1x RS232 422/485, 1x CAN 2.0B Port | 22x SoM Specific I/O Lines (GPIO, A/D, SPI, I2C) | 2x USB High Speed Host, 1x USB High Speed OTG | 200-pin SODIMM | 7.55" ×4.15" | 10/100 BaseT Ethernet, 7in WVGA LCD w/Touch Screen, SPI, I2S, Audio Beeper, 12S Audio Port with Line-In/Line-Out, I2C |
| SoM-200GS | SoM-3517M, SoM-9G45M, SoM-9M10, SoM-3354, SoM-A5D36 | TFT LCD /w Touch/MMC/SD Flash Slot | 4x Serial Ports (3x RS232 & 1xRS232/422/485), 1x CAN 2.0 Port | Up to 56x I/O Lines | 2x USB Host, 1x USB OTG | 200-pin SODIMM | 4.37" ×6" | Gigabit Ethernet, 4.3in WQVGA LCD w/Touch Screen, SPI, USB Host & Device, Audio In/Out, Bluetooth, Wi-Fi |
| SoM-250GS | SoM-3517M, SoM-3354, SoM-A5D36 | Graphic LCD with TTL & LVDS Interfaces Resistive Touch Screen Interface | 3x RS232, 1x RS232/422/485, 1x CAN, 1x CAN2.0B port | 22x SoM Specific I/O lines (GPIO, A/D, SPI, I2C) | 3x USB (2x USB 2.0 High Speed Host ports, 1x USB 2.0 High Speed OTG port) | 200-pin SODIMM | 7.55" ×4.15" | 1x Gigabit BaseT Ethernet, 1x SPI, 1x I2S, Audio Beeper, 1x I2S Audio port with Line-In/Line-Out |
SMARC / EDM / Qseven Modules
| Product # | CPU | | Memory | | Serial Ports | USB | Video | OS | Dimensions |
| --- | --- | --- | --- | --- | --- | --- | --- | --- | --- |
| SOM-AQ7BT | Intel® Atom™ E3800 series and N2807 Processor | 1.91 GHz | 4 GB | 2GB or 4GB Onboard DDR3L | 2x COM | 1x USB 3.0 and 6x USB 2.0 | 24-bit LVDS LCD, DP x 1 | EMAC OE Linux, WES 7 - Windows Embedded Standard 7 | 2.75" ×2.75" |
| SoM-iMX6M | Freescale NXP Solo/Dual/Quad iMX6 ARM Cortex A9 Fanless Processor | 1 GHz | 2 GB | DDR3 | 4x Serial Ports with handshake | 3x USB 2.0 High Speed Host ports & 1x USB 2.0 High OTG | 24 bit LVDS / HDMI | EMAC OE Linux, Yocto, Qt, Android | 3.23" ×2.363" |
| COM-BTA10-S | Intel® Atom™ E3800 Processor SoC | 1.91 GHz | 4 GB | 2GB or 4GB Onboard DDR3L | 2x COM (2-Wire) | 1x USB 3.0 & 2x USB 2.0 | LVDS, eDB, HDMI | EMAC OE Linux, WES 7 - Windows Embedded Standard 7 | 3.23" ×1.96" |
| COM-51004 | Intel® Atom™ E3800 Series SOC | 1.91 GHz | 8 GB | DDR3L Onboard | 3x COM | 1x USB 3.0 & 3x USB 2.0 | LVDS, eDP, HDMI or DP | EMAC OE Linux, WES 7 - Windows Embedded Standard 7 | 3.23" ×1.96" |
| ROM-51006 | Intel Quark | 400 MHz | 1 GB | Onboard DDR3 | 2x COM | 2x USB 2.0 & 1x USB client | n/a | EMAC OE Linux, Yocto | 3.23" ×1.97" |
| ROM-5420 | Freescale i.MX6 | 1 GHz | 1 GB | Onboard DDR3 | 4x COM (2x 2 wire, 2x 4 wire w/ 3.3V) | 1x USB 2.0, 1x USB 2.0 OTG | LVDS, HDMI and TTL LCD | EMAC OE Linux | 3.23" ×1.97" |
| ROM-51003 | Freescale i.MX6 | 800 MHz | 1 GB | Onboard DDR3 | 4x COM ports | 3x USB 2.0 | LVDS, HDMI and TTL LCD | EMAC OE Linux | 3.23" ×1.97" |
| ROM-51002 | TI Sitara AM3874 | 800 MHz | 2 GB | DDR3 Onboard memory | 4x COM | 2x USB 2.0 | LCD, LVDS and HDMI | EMAC OE Linux, Android | 3.23" ×2.363" |
| ROM-AQ7X6 | Freescale® i.MX6 Dual lite/Quad ARM Cortex A9 Processor. | 1.2 GHz | 2 GB | on board DDR3 | 1x 4-wire UART | 5x USB 2.0 (1x shared USB OTG) | 2x LVDS, HDMI & VGA | EMAC OE Linux | 2.75" ×2.75" |
SODIMM Carrier Boards
| Product # | Module | Video/ Flash | Serial Ports / CAN | Digital I/O | USB | Som Type | Dims. | Other I/O |
| --- | --- | --- | --- | --- | --- | --- | --- | --- |
| SoM-150ES | SoM-9260, SoM-9G20, SoM-9G25, SoM-9x25, SoM-A5D35, SoM-iMX6U | MMC/SD Flash Slot | 4x RS232, 1x RS232/ 422/485, 1x CAN 2.0B Port | 24x Digital I/O Lines | 2x Host, 1x Device | 144-pin SODIMM | 4.37" ×6" | 10/100 BaseT Ethernet, Keypad, LCD, A/D, D/A, SPI, USB Host & Device, Audio In/Out |
| SoM-200ES | SoM-9307M, SoM-3517M, SoM-9G45M, SoM-9M10, SoM-3354 | 1x 4-wire Resistive Touch Screen Interface | 3x RS232, 1x RS232/ 422/485, 1x CAN 2.0B Port | 24x Digital I/O Lines | 2x USB 2.0 Host Ports, 1x USB 2.0 Device Port | 200-pin SODIMM | 4.37" ×6" | 10/100 BaseT Ethernet,4.3" WQVGA LCD w/Touch Screen, SPI, USB Host & Device, I2S Audio |
| SoM-210ES | SoM-9307M, SoM-9G45M, SoM-3517M, SoM-9M10, SoM-3354 | Micro SD Flash Slot | 2x RS232, 1x RS232/ 422/485, 1x CAN 2.0B Port | 24x Digital I/O Lines | 2x Host | 200-pin SODIMM | 4.8" ×3" | 10/100 BaseT Ethernet,4.3in WQVGA LCD w/Touchscreen, SPI, I2C, A/D, Audio Beeper, 24x GPIO |
| SoM-212ES | SoM-9G45M, SoM-3517M, SoM-9307M, SoM-9M10, SoM-3354 | Micro SD Flash Slot | 3x RS232, 1x RS232/ 422/485, CAN 2.0B Port | 16x Digital I/O Lines | 2x Host, 1x OTG | 200-pin SODIMM | 4.8" ×3" | 10/100 BaseT Ethernet, WQVGA LCD w/Touchscreen, 16x GPIO, SPI, I2C, A/D, Audio in/out, Audio Beeper, POE |
| SoM-250ES | SoM-9G45M, SoM-9M10, SoM-3517M, SoM-3354 | Graphic LCD with TTL & LVDS Interfaces with optional 2D acceleration & hardware CODECs | 3x RS232, 1x RS232 422/485, 1x CAN 2.0B Port | 22x SoM Specific I/O Lines (GPIO, A/D, SPI, I2C) | 2x USB High Speed Host, 1x USB High Speed OTG | 200-pin SODIMM | 7.55" ×4.15" | 10/100 BaseT Ethernet, 7in WVGA LCD w/Touch Screen, SPI, I2S, Audio Beeper, 12S Audio Port with Line-In/Line-Out, I2C |
| SoM-200GS | SoM-3517M, SoM-9G45M, SoM-9M10, SoM-3354, SoM-A5D36 | TFT LCD /w Touch/MMC/SD Flash Slot | 4x Serial Ports (3x RS232 & 1xRS232/422/485), 1x CAN 2.0 Port | Up to 56x I/O Lines | 2x USB Host, 1x USB OTG | 200-pin SODIMM | 4.37" ×6" | Gigabit Ethernet, 4.3in WQVGA LCD w/Touch Screen, SPI, USB Host & Device, Audio In/Out, Bluetooth, Wi-Fi |
| SoM-250GS | SoM-3517M, SoM-3354, SoM-A5D36 | Graphic LCD with TTL & LVDS Interfaces Resistive Touch Screen Interface | 3x RS232, 1x RS232/422/485, 1x CAN, 1x CAN2.0B port | 22x SoM Specific I/O lines (GPIO, A/D, SPI, I2C) | 3x USB (2x USB 2.0 High Speed Host ports, 1x USB 2.0 High Speed OTG port) | 200-pin SODIMM | 7.55" ×4.15" | 1x Gigabit BaseT Ethernet, 1x SPI, 1x I2S, Audio Beeper, 1x I2S Audio port with Line-In/Line-Out |
PC-Compatible ETX Modules
| Product # | Modules | Memory Flash/RAM | Std. Ports | Disk Interfaces | Video | Bus Type | Dims. | Other I/O |
| --- | --- | --- | --- | --- | --- | --- | --- | --- |
| SoM-4455 | AMD Geode LX800, 500 MHz | Up to 1 GB of SODIMM DDR RAM | 2x Serial Ports | FDD, 2 EIDE Ultra DMA66 | NS CX5536, CRT/LCD/LVDS, 4 - 64 MB shared | PCI/ISA | 3.7" ×4.5" | 100 BaseT Ethernet, Keyboard, Mouse, IrDA, Audio, Optional TV-Out, Compact Flash, Watchdog |
| SoM-4463 | Intel Atom N450 / D510, 1.67 GHz | Up to 1 GB of SODIMM DDR RAM | 2x Serial Ports | 2x EIDE, 2x SATA, FDD | Intel Atom N450/D510 CRT/LCD/LVDS | PCI/ISA | 3.7" ×4.5" | 100 BaseT Ethernet, Keyboard, Mouse, Audio, Watchdog |
| SoM-4463-B1 | Intel Atom N455 / D525, 1.67 GHz | Up to 1 GB of SODIMM DDR RAM | 2x Serial Ports | 2x EIDE, 2x SATA, FDD | Intel Atom N455, D525, 1.67 GHz CRT/LCD/LVDS | PCI/ISA | 3.7" ×4.5" | 100 BaseT Ethernet, Keyboard, Mouse, Audio, Watchdog |
| SOM-VDX3-ETX | DM&P Vortex86DX3, 1 GHz | Up to 2GB DDR3 Onboard | 2x Serial Ports, 4x USB2.0 | 1x IDE, 1xSATA | VGA, LVDS | ETX, (PCI and ISA) | 4.5" ×3.7" | 10/100 Ethernet(GbE optional), Keyboard, Mouse, Audio, compact flash, SATA DOM, Watchdog |
| SOM-4466 | AMD G-Series Processor, 1.65 GHz | Up to 4GB DDR3 SODIMM | 2x COM & 4x USB 2.0 | 2x IDE, 2xSATA & mSATA | VGA, LVDS, and TTL | ETX Expansion | 3.74" ×4.5" | 10/100 LAN, Watchdog, GPIO, Audio |
ETX Carrier Boards
| Product # | Module | Serial Ports | Disk Interfaces | Video/ Flash | Bus Type | Dim. | Other I/O |
| --- | --- | --- | --- | --- | --- | --- | --- |
| SoM-DB4400 | Any ETX SoM | 1x RS232/485, 1x RS232 | FDD/LPT, Compact Flash, IDE | Analog VGA, LCD | PCI/ISA Slots | 7.5" ×12" | 100 BaseT Ethernet, Keyboard, Mouse, Audio |
COM Express Modules
| Product # | CPU | Memory | Bus Type | Disk Interfaces | Serial Ports | Video | Dims. | Other I/O |
| --- | --- | --- | --- | --- | --- | --- | --- | --- |
| SOM-5991 | Intel® Xeon® Processor D-1500 Family | up to 32GB | COM Express Basic Type 6 | 4x SATA III | 2x COM, 4x USB3, 4xUSB2 | none | 4.92" ×3.74" | 2x 10GbE LAN, 1x GbE, Gen3 PCIe, |
| SOM-6869 | Intel Apollo Lake Pentium, Celeron, Atom E3900 | DDR3L SODIMM up to 8GB | COM Express Compact Type 6 | 2x SATA III | 2x COM, 2x USB3, 8x USB 2 | VGA, LVDS & DDI | 3.74" ×3.74" | 1x GbE LAN, optional CAN, GPIO, I2C |
| COM-36024 | Intel Apollo Lake Pentium, Celeron, Atom E3900 | DDR3L SODIMM up to 8GB | COM Express Compact Type 6 | eMMC, SDIO, 2x SATA III | 2x COM, 4x USB3, 4x USB 2 | 2x DP (++) on DDI1/DDI2 1x LVDS/eDP | 3.74" ×3.74" | 1x GbE, GPIO/SDIO, SPI, I2C, 4k Video |
| SOM-6868 | Embedded Intel Braswell Pentium/Celeron/ATOM Processor | Up to 8GB DDR3L SODIMM | COM Express Compact Type 6 | 2x SATA III | 2x COM, 4x USB3 & 8x USB2 | LVDS & 2x DDI ports | 3.74" ×3.74" | 1x GbE, 8x GPIO |
| CoM-TC | Intel® Atom™ E680 processor, 1.6 GHz | 2 GB DDR2 | COM Express Compact Type 2 | 1x PATA, 2x SATA | 6x USB, 1x USB Device | Intel E680 Integrated SDVO/LCD/LVDS up to 384MB shared, DVMT 4.0 | 3.74" ×3.74" | 1000 BaseT Ethernet, Audio, GPIO, Watchdog |
| CoM-U15 | Intel Atom Z530/Z510, 1.6 GHz | 1 GB DDR2 | COM Express Mini Type 1 | 1x PATA, 2x SATA | 8x USB | Intel US15W Dual Video VGA/LCD/LVDS, 256 MB shared | 3.31" ×2.17" | 1000 BaseT Ethernet, Audio, GPIO, Watchdog |
| SoM-5788 | Intel Core i7 processor (1.06~2.53 GHz) | 4 GB DDR3 | COM Express Basic Type 2 | Ix PATA, 3x SATA | 8x USB | Intel QM57, Gen Dual Video VGA/LVDS/HDMI/ Displayport/TV-out | 4.92" ×3.74" | 1000 BaseT Ethernet, Audio, Watchdog |
| SoM-7562 | Intel Atom Processor N455, 1.66 GHz | 1 GB DDR3 | COM Express Mini Type 1 | 3x SATA II | 8x USB 2.0 Ports | Embedded Gen3.5+ Dual Video GFX Core VGA/LVDS | 3.31" ×2.17" | 1000 BaseT Ethernet, Audio, GPIO, Watchdog |
| SOM-7565 | Intel Atom N2600 + NM10 1.6GHz | 2 GB Ram On-Board | COM Express Mini Type 10 | SATA or Onboard SSD | 1x Serial Port ( 2x Serial Ports Optional while remove On-board Flash) | DDI & LVDS | 3.3" ×2.17" | Intel 82574L Gigabit Ethernet, MLC 4GB/8GB, SLC 4GB |
| COM-UCEBT | Intel Atom E3800 series | 2GB DDR3 Onboard | COM Express Mini Type 10 | 2x SATA | 2 x COM | DDI, LCD, DP | 3.31" ×2.17" ×1.69" | GbE, DP, LVDS |
| SOM-7567 | Intel Atom E3800 series | up to 4GB Memory Onboard | COM express Mini Type 10 | SATA | 2x COM | LCD and DDI | 3.3" ×2.17" | GbE, DP, LVDS |
| SOM-6867 | Embedded Intel Baytrail Atom/Celeron Processor E3845/E3827/J1900 | Up to 8GB DDR3L SODIMM | COM Express Compact Type 6 | 2x SATA III | 1x COM (second COM Port if onboard SSD is not populated), 1x USB3 & 8x USB2 | DP and LVDS | 3.74" ×3.74" | GbE, Audio, GPIO, Watchdog |
| SOM-6894 | Intel® Core™ i7/i5/i3/Celeron® processor | Up to 16GB DDR3L SODIMM | COM Express Compact Type 6 | 4x SATA III | 2x COM (2-Wire). 2x USB 3.0 & 8x USB 2.0 | VGA, LVDS, HDMI/DisplayPort/DVI | 3.74" ×3.74" | 1x GbE, Audio, GPIO, Watchdog |
| COM-BTA10 | Intel Atom E3800 Family Processor | Up to 8GB DDR3 SODIMM | COM Express Compact Type 10 | 2x SATA II | 2x COM (2-Wire) | CRT, LVDS LCD, DDI, eDP | 3.74" ×3.74" | GbE, Audio, GPIO, Watchdog |
| SOM-5890 | Intel Core i7/i5/i3/Celeron processor | up to 16GB DDR3 SODIMM | COM Express Basic Type 6 | 2x SATA III & 2x SATA II | 2x COM | VGA, LVDS, HDMI, DVI & DP | 4.92" ×3.74" | GbE, Audio, GPIO, Watchdog |
| SOM-5892 | Intel® Core™ i7/i5/i3/Celeron® processor | Up to 16 GB DDR3L SODIMM | COM Express Basic Type 6 | 2x SATA III & 2x SATA II | 2x COM | VGA, DVI, HDMI, DP, & 2x LVDS | 4.92" ×3.74" | GbE, Audio, GPIO, Watchdog |
| SOM-5893 | AMD R-Series APU Bald Eagle | Up to 16GB DDR3L SODIMM | COM Express Basic Type 6 | 4x SATA III | 2x COM & 4x USB 3.0 & 8x USB 2.0 | VGA, LVDS & 3xDDI | 4.92" ×3.74" | GbE, Audio, GPIO, Watchdog |
| SOM-5894 | 4th Generation Intel Core Processors H-series | Up to 16 GB DDR3L SODIMM | COM Express Basic Type 6 | 4x SATA III (supports RAID 0/1/5/10) | 2x COM, 4x USB3 & 8x USB2 | VGA, LVDS and 3x DDI (HDMI/DVI/DP) | 4.92" ×3.74" | GbE, Audio, GPIO, Watchdog |
| COM-38025 | 4th Generation Intel Core Processors H-series | up to 16GB DDR3L SODIMM | COM Express Basic Type 6 | 4x SATA | 2x COM, 4x USB3 & 4x USB2 | VGA, LVDS and 3x DDI (HDMI/DVI/DP) | 4.92" ×3.74" | GbE, Audio, GPIO, Watchdog |
| COM-38021 | 3rd Generation Intel Core Series CPU | up to 16 GB DDR3 SODIMM | COM Express Basic Type 6 | 2x SATA II & 2x SATA III | 2x COM, 4x USB3, 8x USB4 | VGA, LVDS & 3x DDI | 4.92" ×3.74" | GbE, Audio, GPIO, Watchdog |
COM Express Carrier Boards
| Product # | Module | Serial Ports | Disk Interfaces | Video | Bus Type | Dims. | Other I/O |
| --- | --- | --- | --- | --- | --- | --- | --- |
| SOM-DB5800 | Compatible with COM Type-6/10 Pin-out (Basic and Compact) | 4x COM, 4xUSB2/3 & 2x USB2 | 4x SATA | VGA, LVDS & HDMI | PCIe x16, x4 and x1, 1x Mini-PCIe socket, 2x express card | 12" ×9.6" | 10/100/1000 RJ45 jack, up to 3x HDMI/DP, 8x GPIO |
| SOM-AB5810 | Compatible with COM Type-6 Pin-out (Basic and Compact) | 1x RS232, 1x RS232/422/485, 4xUSB2/3 & 2x USB2 | 4x SATA & mSATA | VGA, LVDS & 2x HDMI | PCIe x16/x1, mini-PCIe/USB | 6.7" ×6.7" ×1" | 10/100/1000 RJ45 jack, Dual HDMI, 8x GPIO |
SODIMM Carrier Boards
| Product # | Module | Video/ Flash | Serial Ports / CAN | Digital I/O | USB | Som Type | Dims. | Other I/O |
| --- | --- | --- | --- | --- | --- | --- | --- | --- |
| SoM-150ES | SoM-9260, SoM-9G20, SoM-9G25, SoM-9x25, SoM-A5D35, SoM-iMX6U | MMC/SD Flash Slot | 4x RS232, 1x RS232/ 422/485, 1x CAN 2.0B Port | 24x Digital I/O Lines | 2x Host, 1x Device | 144-pin SODIMM | 4.37" ×6" | 10/100 BaseT Ethernet, Keypad, LCD, A/D, D/A, SPI, USB Host & Device, Audio In/Out |
| SoM-200ES | SoM-9307M, SoM-3517M, SoM-9G45M, SoM-9M10, SoM-3354 | 1x 4-wire Resistive Touch Screen Interface | 3x RS232, 1x RS232/ 422/485, 1x CAN 2.0B Port | 24x Digital I/O Lines | 2x USB 2.0 Host Ports, 1x USB 2.0 Device Port | 200-pin SODIMM | 4.37" ×6" | 10/100 BaseT Ethernet,4.3" WQVGA LCD w/Touch Screen, SPI, USB Host & Device, I2S Audio |
| SoM-210ES | SoM-9307M, SoM-9G45M, SoM-3517M, SoM-9M10, SoM-3354 | Micro SD Flash Slot | 2x RS232, 1x RS232/ 422/485, 1x CAN 2.0B Port | 24x Digital I/O Lines | 2x Host | 200-pin SODIMM | 4.8" ×3" | 10/100 BaseT Ethernet,4.3in WQVGA LCD w/Touchscreen, SPI, I2C, A/D, Audio Beeper, 24x GPIO |
| SoM-212ES | SoM-9G45M, SoM-3517M, SoM-9307M, SoM-9M10, SoM-3354 | Micro SD Flash Slot | 3x RS232, 1x RS232/ 422/485, CAN 2.0B Port | 16x Digital I/O Lines | 2x Host, 1x OTG | 200-pin SODIMM | 4.8" ×3" | 10/100 BaseT Ethernet, WQVGA LCD w/Touchscreen, 16x GPIO, SPI, I2C, A/D, Audio in/out, Audio Beeper, POE |
| SoM-250ES | SoM-9G45M, SoM-9M10, SoM-3517M, SoM-3354 | Graphic LCD with TTL & LVDS Interfaces with optional 2D acceleration & hardware CODECs | 3x RS232, 1x RS232 422/485, 1x CAN 2.0B Port | 22x SoM Specific I/O Lines (GPIO, A/D, SPI, I2C) | 2x USB High Speed Host, 1x USB High Speed OTG | 200-pin SODIMM | 7.55" ×4.15" | 10/100 BaseT Ethernet, 7in WVGA LCD w/Touch Screen, SPI, I2S, Audio Beeper, 12S Audio Port with Line-In/Line-Out, I2C |
| SoM-200GS | SoM-3517M, SoM-9G45M, SoM-9M10, SoM-3354, SoM-A5D36 | TFT LCD /w Touch/MMC/SD Flash Slot | 4x Serial Ports (3x RS232 & 1xRS232/422/485), 1x CAN 2.0 Port | Up to 56x I/O Lines | 2x USB Host, 1x USB OTG | 200-pin SODIMM | 4.37" ×6" | Gigabit Ethernet, 4.3in WQVGA LCD w/Touch Screen, SPI, USB Host & Device, Audio In/Out, Bluetooth, Wi-Fi |
| SoM-250GS | SoM-3517M, SoM-3354, SoM-A5D36 | Graphic LCD with TTL & LVDS Interfaces Resistive Touch Screen Interface | 3x RS232, 1x RS232/422/485, 1x CAN, 1x CAN2.0B port | 22x SoM Specific I/O lines (GPIO, A/D, SPI, I2C) | 3x USB (2x USB 2.0 High Speed Host ports, 1x USB 2.0 High Speed OTG port) | 200-pin SODIMM | 7.55" ×4.15" | 1x Gigabit BaseT Ethernet, 1x SPI, 1x I2S, Audio Beeper, 1x I2S Audio port with Line-In/Line-Out |
ETX Carrier Boards
| Product # | Module | Serial Ports | Disk Interfaces | Video/ Flash | Bus Type | Dim. | Other I/O |
| --- | --- | --- | --- | --- | --- | --- | --- |
| SoM-DB4400 | Any ETX SoM | 1x RS232/485, 1x RS232 | FDD/LPT, Compact Flash, IDE | Analog VGA, LCD | PCI/ISA Slots | 7.5" ×12" | 100 BaseT Ethernet, Keyboard, Mouse, Audio |
COM Express Carrier Boards
| Product # | Module | Serial Ports | Disk Interfaces | Video | Bus Type | Dims. | Other I/O |
| --- | --- | --- | --- | --- | --- | --- | --- |
| SOM-DB5800 | Compatible with COM Type-6/10 Pin-out (Basic and Compact) | 4x COM, 4xUSB2/3 & 2x USB2 | 4x SATA | VGA, LVDS & HDMI | PCIe x16, x4 and x1, 1x Mini-PCIe socket, 2x express card | 12" ×9.6" | 10/100/1000 RJ45 jack, up to 3x HDMI/DP, 8x GPIO |
| SOM-AB5810 | Compatible with COM Type-6 Pin-out (Basic and Compact) | 1x RS232, 1x RS232/422/485, 4xUSB2/3 & 2x USB2 | 4x SATA & mSATA | VGA, LVDS & 2x HDMI | PCIe x16/x1, mini-PCIe/USB | 6.7" ×6.7" ×1" | 10/100/1000 RJ45 jack, Dual HDMI, 8x GPIO |
EOL System on Modules
Product #
CPU
Memory
Serial Ports
Video
Bus Type
Dims.
Other I/O
SoM-100ES
MMC/SD Flash Slot
2x Serial Ports
LCD
144-pin SODIMM
4" ×5.75"
10/100 BaseT Ethernet, Keypad, A/D, D/A, SPI, Modem, 1-Wire®
SoM-400EM
Dallas™ TINI® DS80C400 8-bit,
30 MHz
2 MB, 1 MB SRAM, 2 MB Flash
3x Serial Ports, 1x SPI, CAN 2.0B
LCD
Local DS Bus
2.66" ×1.5"
10/100 BaseT Ethernet, Hardware SPI, Battery Back RAM, 1-Wire®, Real Time Clock
SoM-4450
Geode GX1,
300 MHz
256 MB, 1x SDRAM SDIMM, Supports CompactFlash™ card
2x Serial Ports
NS CX5530, CRT/LCD/LVDS, 1-4 MB shared
PCI/ISA
3.7" ×4.5"
100 BaseT Ethernet, Keyboard, Mouse, IrDA, 2 USB, Audio, Compact Flash, Watchdog
SoM-4451
Embedded Fanless Low Power SiS552,
200 MHz
256 MB, SDRAM SODIMM
2x Serial Ports
SiS 552, CRT/LCD/LVDS, 32- 64 MB shared
PCI/ISA
3.7" ×4.5"
100 BaseT Ethernet, Keyboard, Mouse, IrDA, TV-Out, 2 USB, Audio, Watchdog
SoM-4472
VIA low power Eden,
400 MHz
512 MB, 1x SDRAM SODIMM
2x Serial Ports
VIA Twister™ Savage4™ CRT/LCD/ LVDS 8 - 64 MB shared
PCI/ISA
3.7" ×4.5"
100 BaseT Ethernet, Keyboard, Mouse, IrDA, 4 USB, Audio, NTSC/PAL, Watchdog
SoM-4475
LV Intel ® Pentium ® III,
933 MHz
512 MB, 1x SDRAM SODIMM
2x Serial Ports
VIA Twister™ Savage4™ CRT/LCD/LVDS 8 - 64 MB shared
PCI/ISA
3.7" ×4.5"
100 BaseT Ethernet, Keyboard, Mouse, IrDA, 4 USB, Audio, TV-Out, NTSC/PAL, Watchdog
SoM-4481
Embedded Celeron M or Pentium M,
1.8 GHz
1 GB, 1x SODIMM DDR 333 DRAM
2x Serial Ports
Intel 855GV CRT/LCD/LVDS 8 - 64 MB shared
PCI/ISA
3.7" ×4.5"
100 BaseT Ethernet, Keyboard, Mouse, IrDA, 4 USB 2.0, Audio, Watchdog
SoM-4486
Embedded Intel Celeron M Fanless,
600 MHz
1 GB, 1x SODIMM DDR 333 DRAM
2x Serial Ports
Intel 852GV CRT/LCD/LVDS 8 - 64 MB shared
PCI/ISA
3.7" ×4.5"
100 BaseT Ethernet, Keyboard, Mouse, IrDA, 4 USB 2.0, Audio, Watchdog
SoM-5282M
Embedded Coldfire MCF5282 processor,
66 MHz
16 MB, SDRAM, 2 MB External Flash (4MB optional)
3x TTL, 1x SPI, 1x I2C, CAN 2.0B
Local Coldfire Bus
2.66" ×1.5"
10/100 BaseT Ethernet, A/D, Battery Back RAM, Real Time Clock
SoM-536EM
Embedded Blackfin BF536 processor,
400 MHz
64 MB, SDRAM, 2 MB External Flash (4 MB Optional)
3x TTL, 1x SPI, 1x I2C, Full CAN 2.0B
Local Blackfin Bus
2.66" ×1.5"
10/100 BaseT Ethernet, I2S, 1-Wire®, Battery Back RAM, Real Time Clock
SoM-5786
Intel Core 2 Duo Processor w/64 KB primary cache memory
4 GB, DDR2
8x USB
Intel GME965 Dual Video VGA/LCD/LVDS 384 MB shared
PCIE, PCI, SMB, LPC
4.92" ×3.74"
1000 BaseT Ethernet, Audio, Watchdog
SoM-6760
Intel Atom processor Z510,
1.1 GHz
2 GB, 1x 200-pin SODIMM DDR 400/533
8 USB Ports
Intel US15W CRT/LCD/LVDS 256 MB shared
PCIE, PCI, SMB, LPC
3.74" ×3.74"
10/100 BaseT Ethernet, Audio, GPIO, Watchdog
SoM-6763
Intel Atom Processor single N450/ dual D510,
1.66 GHz
2 GB, DDR2
8x USB
Intel ICH8-M Dual Video VGA/LCD/LVDS
COM Express Compact Type 2
3.74" ×3.74"
1000 BaseT Ethernet, Audio, GPIO, Watchdog
SoM-DB5700
1x RS232, 1x RS232/422/485
Analog VGA, Dual LVDS
PCIE, Mini PCI, PCI/ISA Slots
7.5" ×12"
100 BaseT Ethernet, 1000 BaseT Ethernet, Keyboard, Mouse, USB, Audio
SoM-NE64M
Embedded MC9S12NE64 processor,
50 MHz
8 kB, SRAM, 64Kb Internal Flash
2x TTL, 1x SPI, 1x I2C
Local External Bus
2.66" ×1.5"
10/100 BaseT Ethernet, A/D, 1-Wire®, Real Time Clock